DU Offshore Services was created to takes advantage of the great source of divers, supervisors, superintendents and others professionals that is Divers University (commercial diving training center).
Using the Divers University's database, D.U. Offshore Services was able to set up a select group of professionals to perform in offshore and onshore operations, running in many positions, mainly in the FPSOs installations (hook-ups, decommissioning, pull-in and pull-out).
In addition to act in the offshore installations, the D.U. Offshore Services works in the management and coordination of both, projects and logistic bases, as well in client representative jobs, technical consultancy involving diving operations, dive systems audit (IMCA) and supervising offshore operations involving pre-tensioning and positioning (FPSOs).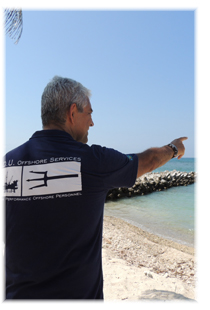 Technical Team
With the leadership of our Executive Director, Mr. Rafael De Nicola (40 years of experience in diving operations), D.U. Services Offshore has directly and indirectly participated in more than 180 projects, acting individually or in partnership with the best national and international companies in the oil sector, achieving excellence in the fulfillment of their commitments.


Advantages

Reduced fixed costs;


Supply qualified human resources;


Agility in hiring;


Flexibility for hiring in all working areas;


Turnover balance;


High performance on productivity and quality;


Concentration and commitment.
Outsourcing with D. U. Services Offshore, your company has a wide consulting in the human resources area, minimizing costs from the recruitment to the personnel administration process.